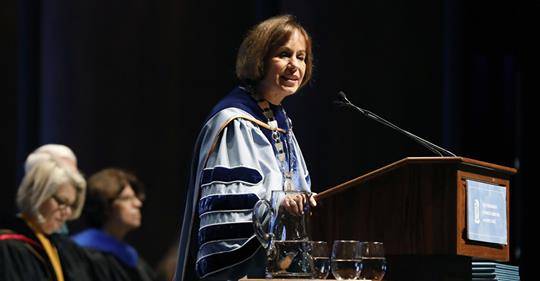 The head of the nation's oldest public university apologized for its legacy of slavery during the school's 225th birthday celebrations on a campus grappling with its memorials to the Confederacy.
University of North Carolina-Chapel Hill's Chancellor Carol L. Folt offered the university's "deepest apology for the profound injustices of slavery, our full acknowledgment of the strength of enslaved peoples in the face of their suffering, and our respect and indebtedness to them," during a speech Friday, per the New York Times.
Protesters at the school had toppled a 1913 statue near the school's entrance dedicated to Confederate soldiers known as "Silent Sam" in August. The university said at the time it would investigate the vandalism incident, and several people were arrested.
The "Silent Sam" statue remains in storage. School officials must submit a preservation plan for the monument to the state university system's governing board by Nov. 15, according to a report in the News & Observer.
"Our apology must lead to purposeful action," the chancellor said, "and it has to build upon the effort and the sacrifices of so many across the years who fought so hard for much of what we value at Carolina today."
The university has already announced changes to facilities that carried the names of people connected to white supremacy.